Neena Gupta and Anupam Kher go a long way from their early days as actors with dreams. In Shiv Shastri Balboa, it has become an amazing adventure.
Shiv Shastri Balboa is all about the protagonists Neena Gupta and Anupam Kher and the guts it takes  to chase after their dreams, stand up against injustice, and  stick to their convictions with tenacity in the face of adversity,    and how they become champions in their own right!
The current poster of Neena Gupta in Maroon T shirt with a mischievous dog as her alter ego is cute. But look deeper, and you see her goggles seemingly  reflecting her thoughts. And how!
Earlier, Anupam Kher released his poster with his goggles reflecting the Eyes of a Tiger, a poster   champion Mary Kom admitted, she simply loved.
Now, this poster again  using the goggles to tell a story, is making the netizens go crazy.
Yesterday, actor Akshay Kumar was shocked to see Anupam Kher's six pack abs in the poster of Shiv Shastri Balboa!  He fondly told anupam Kher in his tweet…  "now stop it!" Illustrating how the versatile Anupam who is the No 1 actor of the year was now giving Akshay a beating even in the biceps arena.
Now, Neena Gupta's quirky look is a rage.
For the uninitiated, Shiv Shastri Balboa is an inspirational film of a common man with uncommon adventures starring Anupam Kher, Neena Gupta, Jugal Hansraj, Nargis Fakhri, Sharib Hashmi. Presented by UFI Entertainment, Anupam Kher Studios and Tarun Rathi, Executive Producer: Ashutosh Bajpai.
Earlier, Mary Kom had released the film's first poster. The event saw  Anupam Kher spar with Mary Kom in a with a friendly ring! this was followed by Anupam Kher's bare-bodied poster with the pug in the poster exclaiming, "phata poster, nikla…." Looks like this takes Anupam Kher's fitness and popularity to another level!
Echo producer Kishore  Varieth, presenter Tarun Rathi and executive producer Ashutosh Bajpai, "Shiv Shastri Balboa is not just a film; it is an experience. The film makes you laugh, makes you cry, and above all makes you a winner! This film is simply the need of the hour!" Cheers to that. What say!
https://www.instagram.com/p/Cn071VwsR_S/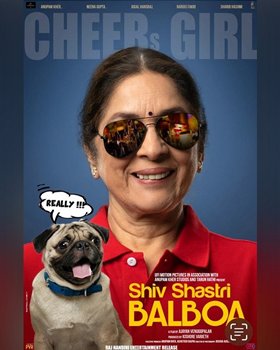 Neena Gupta's Quirky Shiv Shastri Balboa Posters Has Netizens Go Crazy Over Her Characters That Speak Their Mind! Anupam Kher Releases The Poster For His Adorable Costar In Goggles!